The Roe Effect in Action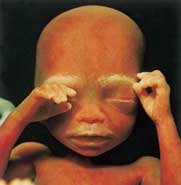 Channel One, the news network that high-school students across the country view within their classrooms, sponsored a mock election called "One Vote 2004." 1.4 million students participated.

President Bush won by a landslide. The President took 393 electoral votes compared to 145 for Kerry. The President also took the popular vote 55-45%.

While I think the President will win on November 2, I don't think it will be by this large of a margin. I'm on record saying that the President's electoral count will be in the 290's. So what's with the kids?

James Taranto of "The Wall Street Journal" has a theory he calls "The Roe Effect:"


our theory is that abortion is making America more conservative than it otherwise would be.

We base this on two assumptions. First, that liberal and Democratic women are more likely to have abortions. Second, that children's political views tend to reflect those of their parents...
I'd also add that conservatives are more likely to have children under any circumstance. They tend to get married more often and younger, they start having children younger, and they have more kids. They just tend to be more family-oriented. For a counter-example, look at the demographic trends of
much of Europe
.
For a pro-lifer like myself this is sweet poetic justice. Is it really so surprising that liberal hostility to family values eventually results in fewer liberal kids?