R2D2 Would Win in a Landslide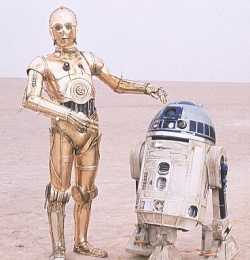 Warning: If you're drinking a soft drink, take your last swallow and put the can down before reading further. Otherwise you will blow it out your nose:


...with all the political crap flowing through the news wires…I'd thought I'd take time to check in on some old childhood friends--namely the Star War Trilogy which just came out on DVD...

But as I tried to get into those stories again, my mind kept going back to the spin I'm faced with on a daily basis. Something was nagging me. I couldn't quite put my finger on it, but then it dawned on me. Threepio, with his constant negativity and bitching, was starting to sound like John Kerry...

THREEPIO:

We'll be destroyed for sure. This is madness!
We're doomed!
Secret mission? What plans? What are you talking about? I'm not getting in there!
Are you sure this things safe?
How did I get into this mess? I really don't know how.
No more adventures. I'm not going that way.
That malfunctioning little twerp. This is all his fault! He tricked me into going this way, but he'll do no better.
And R2D2 is the very essence of Dubya. Sure you can't understand what he's saying half the time, sure he kind of swaggers when he walks, but if you've got to take on the Death Star or search the spooky swamps of Dagobah for an ally, he's the one you want with you, not C3PO.
UPDATE: James Taranto
runs even further
with this meme.